Enabling the CSP to DSP Journey
AwareX Omni-Client product suite enables service providers to rapidly achieve digital engagement with consumers.
Deliver an exceptional self-service experience
Reduced cost of support
Increased add-on revenue
Sustainably greater customer satisfaction.
AwareX empower our customers through a combination of cloud-based digital self-service channels including:
Native customer self-service Apps for both iOS & Android
Web portal self-service
Facebook Messenger Bots
SMS Bots for feature phones
Smart Voice such as Amazon Alexa & Google Home
all leveraging integrated analytics and context-aware marketing, resulting in the industry leading, low-risk, fastest time-to-market, customer and revenue impacting solution.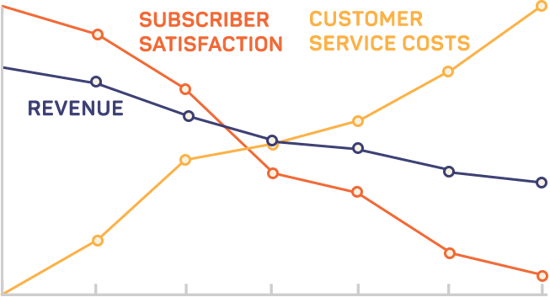 digital product solutions to industry problems
Native customer self-service apps for Smartphones both iOS and Android.
Web sites for Customer Self Service
Smart Voice Clients such as Amazon Alexa and Google Home Assistant
Facebook messenger Bots
SMS Bots for feature phones
One Single System supports all channels with one set of business logic that connects to all back-end systems leveraging them as the system of record for a wide range of front end customer touch points.
The system has been optimized in the hands of millions of end users to provide the most efficient customer journeys, clear usage for the end users, minimal clicks to achieve a task and optimum information display.
Customers feel in control of their account, they contact the call center less and they buy more, all online and digitally, reducing your costs and increasing revenues whilst driving customer satisfaction.
Product Suite the awareX product suite provides: -
Integration Platform
Data connectors
Business logic adapters
End user session manager
Operations controller
Content Management System (CMS)
Analytics
Marketing campaign manager
Push messaging
Native iOS and Android Applications
Web Portal Application
SMS Message bots
Facebook Message bot
Smart Voice Message bot
Your Brand it's an extension of your brand, entirely consistent with your look and feel. Your end user see's and interacts with Apps dressed using your corporate style guide, colors, images & fonts to make the Apps personalized for you with a high degree of configurability. You can have your own priority of placement of items on pages, move them around or leave them out completely. We support multiple languages including double bit character sets. With the Content Management System (CMS) you can change images and text as you wish with no App rebuilds and no need to refer to us, it's in your hands.
Rich Functionality awareX provides a huge range of digital customer self service journeys out of the box. They enable both self-purchase, top-up, bill payment and review and other revenue upside journeys as well as features and functions to reduce call traffic to the call center. There are over 140 standard features and functions available right out of the box.
The following service types are supported:-
Mobile Pre-Paid
Mobile Post-Paid
Mobile Hybrid
Fixed Line
Internet
TV / VOD /Cable
Integration the awareX Integration Platform is the heart of the product suite. It enables interfacing to all necessary back-end and external systems via a variety of pragmatic means (but preferably REST API's) Integrating (with industry standard encryption) into the widest range of Business Support Systems (BSS) from companies like, CSG, Ericsson, Amdocs, Netcracker, RedKnee/Optiva, Comverse, DigiTalk, Cerillion, Hansen & Huawei.
If you have an Enterprise Service Bus or an API service or portal, then the Integration Platform will smoothly integrate to that as well. Even if you have legacy systems that only offer green screen access awareX supports RPA for automated integration.
The Integration platform will cleanse, rationalize and transform data in real time from various systems and formats into meaningful customer usable data and transfer it for display by the wide range of clients whilst ensuring customer data privacy is maintained.
Scalability and Security the system uses elastic scaling running on multiple cloud-based instances around the globe to enable systems to be economically configured from just a few thousand users up-to many millions providing consistently fast response times (which are continually monitored) to ensure happy users. Data security is paramount. We provide encryption of transmitted data, zero retention of personal data and we fully support GDPR.
The system is Highly Available.
Time to Implement allow us to surprise you. We think it is important to do things quickly. We normally plan for a full implementation project to last no more than 12 weeks, from initiation to user acceptance testing. We can do this because we are a product company, with a huge range of commercial off-the-shelf functionality, and we will be ready to support your operations from Day 1.
New Features awareX add new features and functions to our base system every 8 weeks. This means we can help you present the high tempo refresh rate that is expected by end users of modern self-service systems. It means you will always have the latest features and functions and your competitors will not be able to match your rate of innovation.
All updates are included in our fee structure and no incremental fees are charged for upgrades to software licences or the services to implement such an upgrade. All you have to do is tell us what feature you would like to add next, we will schedule it in our deployment cycle and deliver it free of charge.
Support if you have a problem or just a question you can log in 24*7*365 on our customer service portal. We support a full-Service Level Agreement (SLA) for both up-time and response times and will report to you each month on our performance.
Operations each system is delivered with a complete set of system monitoring tools. We measure a wide range of KPI's and ensure your end users get the best response times. We mirror our tickets, alerts and reports to your service desk so you can see everything we can see for full transparency.
Analytics and Marketing the AwareX product suite includes a fully integrated analytics and marketing system to enable context aware personalization for effective customer communication and up-sell. The awareX analytics and marketing platform delivers an increase in active app users as well as higher retention. It is designed to enable targeted, timely and personalized push-messages to coincide with a marketing promotion (for example a seasonal discount for an Add-On product) or to engage with your users based on a variety of user attributes such as previous actions (for example an end user who topped up in the last 30 days), OS/App version, current location (via Geo-fence), and many others. Campaigns can be optimized using A/B testing, the most powerful tool in the marketer's repertoire. Full graphical reporting is readily available to measure the effectiveness of the campaign, so learning can be incorporated into future subsequent campaigns.
Industry standards ODA the digital service provider industry is relatively new but Industry bodies have already provided guidelines, recommendations and architectures to enable and support the move from CSP to DSP. The TM Forum (TMF) (and its over 900 member-companies) has created and endorsed Open Digital Architecture (ODA) to which AwareX is fully conformant. You can be assured we are following the best practice guidelines, architectures and standards.
High Availability the awareX systems architecture is configured at a minimum as an Active/Active multi server configuration with load balancing and graceful degradation but no service suspension in case of any failure. We offer both Metro and Wide Area additional levels of high availability and disaster recovery (DR) as well. The standard AwareX SLA for service availability is 99.99%.
Cloud & SaaS awareX is committed to providing our service using native-cloud systems. They are fast, scalable, secure and inexpensive. We use the best public clouds like Amazon Web Services (AWS) which offers the most complete, capable and globally present service to get you up and running and to stay that way for your end customers.
Our Software As A Service subscription service scales with you, we only charge for active users of the system not subscribers and we scale the system automatically to accommodate those active users.