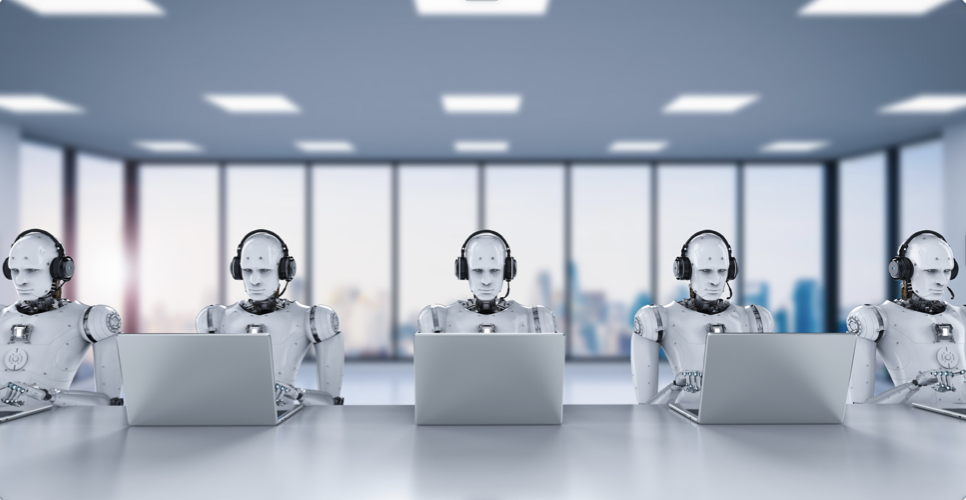 For as long as businesses have been operating, business owners and support leaders have been looking for ways to make their customer support processes easier and more efficient. 
Traditionally, call centers have been the all-in-one solution that meets all these needs as well as customer expectations with little to no issue.
However, the advent of wireless broadband, smartphones, and social media means that people are connected 24/7. 
This permanent digital "on-switch" has changed the demands and expectations that customers have when engaging with a business, particularly when it comes to support issues and resolutions. 
The digital pivot has left many businesses with dusty, outdated call center models that can't meet customer support needs quickly enough or in the way or times that customers expect. 
Ultimately, the best thing for most businesses to do is to retire their traditional "brick and mortar" call centers in favor of automated, digitalized support systems. Take a closer look at why retiring your call center is the smart call to make. 
Call Centers as We Know Them Are Redundant in 2022
Call centers as we've always known them have had one major, enduring benefit that has been the backbone to their appeal for so many businesses: they're cost-effective. 
Outsourcing or offshoring overseas to call center businesses has always been a far cheaper customer support strategy compared to hiring in-house support teams and managing a fixed call center location. 
Businesses have relied on call centers to take on the massive volumes of incoming customer calls, emails, and messages. The stifled nature of the call center model means that most centers are bloated, with not enough support staff to deal with escalating volumes of support requests. 
This has resulted in customers traditionally enduring long wait times or having to wait for a callback from a support agent. While it's never been the recipe for an outstanding customer experience, most telco companies have operated on the old mantra of "if it's not broken, don't fix it". 
However, this belief system simply won't cut it anymore. Customers no longer have the patience to sit and wait for a response or support - they'll simply hang up and that will likely be the last time you ever hear from them. 
Telcos are not dealing with the same customer expectations they've dealt with previously. The call center as we've always known is redundant in the age where everything is instant. 
Why Should Telcos Move Away from The Traditional Call Center Model?
Let's be clear - we're not saying there's no room for live support agents, just call centers. Live support is still an integral part of the customer experience but using live support in call centers as your first line of support is an instant recipe for churn. 
There are three main areas relating to customer support where call centers constantly fall short:
Instant solutions - Customers want and expect instant solutions to their queries or problems. The dial-up, queued nature of call centers doesn't allow for this even if they harness support technology. 
Support variability - Call centers only offer one type of support option to your customers but not everyone wants to make a call to receive support. Customers want support options, whether it's phone, email, instant messaging, social media chat, or self-support.
Cost for value - Even though outsourced call centers may be the cheaper option, the actual cost of paying hundreds, if not thousands, of support agents is extremely high, not to mention the additional staff required like managers. When you weigh the full cost of this compared to the true value of the service received, it's not a worthwhile long-term investment. 
How Can Telcos Leverage Technology to Support Customers Instead of Call Centers? 
Leverage digital touchpoints for customer engagement
Ideally, customers should be able to reach your business across various digital touchpoints that will drive more engagement and encourage customers to reach out. 
Offering multiple digital touchpoints for customer engagement will speak to your broader customer base instead of a select few who prefer calling for support. 
Provide omnichannel support and communication capabilities
Customers don't just want a range of support options - they want consistency across these options. A customer who is receiving phone support may accidentally disconnect or lose the signal. 
If this happens, they should be able to seamlessly transition to another support channel and continue with resolving their query without having to log their query or reshare their information. 
Support channels should use common customer journeys and work in tandem to provide an integrated support experience for every customer. 
Offer intuitive engagement journeys
The support offered to customers should follow a predetermined, intuitive journey that makes resolution frictionless, seamless and easy - also known as an 'intentional customer experience'.
When customers access a support channel or portal, they should be directed to options for how they want to proceed and be given the option to talk to a live support agent every step of the way (bringing in our earlier point that live agents are still invaluable to customer support) if they want to switch from automated support to live support. 
Conclusion
Migrating away from a traditional call center does require you to implement a comprehensive digital tool to automate and manage customer support, queries, and resolutions. The best way to do this is to utilize an all-in-one software solution.