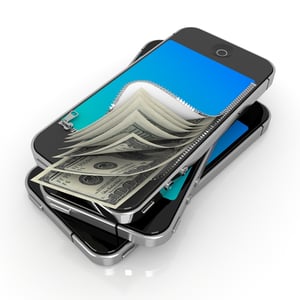 Mobile customer self-service apps represent incredible value for money in reaching your customers but are comparatively under-utilized for revenue up-sell leaving value un-crystallized as marketeers miss the opportunity and focus instead on generic mobile advertising.
The telecoms industry globally is showing no revenue growth, with increased data usage being balanced by declining cost per Mb. Its no wonder then that CMO's turn to mobile advertising to promote their service offers and try and persuade subscribers to jump brand.
Global mobile advertising will grow by 20% to $185Bn in 2018, staggeringly up from a modest $5Bn in 2009, and is now a significant part of the global total advertising spend of over half a trillion $.
CMO's including those of Telco's are spending huge sums on Mobile advertising but does it represent the best use of limited funds for CSP's to reach consumers who are ready, willing and able to buy now! The answer is no, and I will explain why.
If you're a CSP then you have an Ad agency (or two), apart from designing your content, story and brand, excellent agency's like, Mindshare, WPP, Essence, Mediacom, Wavemaker and many others will act as media buyers for you liaising with both the big and the specialist platforms for digital content to get your ad in front of as many people as you can afford.
Based upon the way this is charged which is page impressions viewed in most cases, the net cost to the CSP will after all is said and done cost about 4 to 5 US Cents per generic page viewed. If you would like to have a targeted audience based upon analytics targeting a segment which if favorably disposed to buy from you then expect to pay 6 to 7 US Cents per targeted page impression.
The problem is click through rates are very low at around 0.25% to 0.4% and actually reaching someone who is ready to buy is a rare occurrence.
Now compare this to the possibility's offered by a CSP's own customer service apps. Based upon our actual in use data we see the cost of page impressions being 15X lower cost than advertising page impressions. By definition you are already talking to a segment which buys your offering and can be further micro segmented into context aware groups that are absolutely ready to purchase the right offer at the right time and right place. There is nothing generic about it, you don't annoy customers with irrelevant offers out of context, but you can utilise that high-quality ad agency content right inside your own Customer service app just when the consumer is ready to purchase for a fraction of the cost.
As an example, every Mobile Operator has a partnership with a digital music provider, and everyone is part of a marketing campaign either for a bundled offering or a zero-rated data offer and most advertise the music offers on TV media which is even more expensive and generic. But it can be so much more effective. When we use the high-quality images and adverts as banners, teasers and push messages within the awareX digital customer self-service app we can set campaigns that trigger automatically when consumers pass a Geo-Fence into a concert venue, a music festival or a local gig. Right when you're ready to select that music bundle. And the same principal applies for sports stadiums or airports where targeted offers can be made to those who will really appreciate your offer, like an international roaming package.
The results we see are click through rates that jump to over a truly staggering 35% with a 20% average and a 4% actual purchase rate. That's at least a 10X factor as a minimum over normal advertising which remember costs 15X as much, so the price/return ratio for context aware self-service apps as sales revenue up-sell vehicle is 150X more efficient.
At a time when CSP's are searching for every penny, this is an opportunity which is simply too good to miss. Of course, you need a capable latest generation native App like that provided by AwareX which supports advanced marketing capabilities, in App purchasing and a fully context aware offering capability. If you have a digital Omni-client capability as well like AwareX you can extend the upsell to all your digital channels.
The basic situation is that advertising agency's buy digital engagement page impressions for mobile apps and web sites on behalf of CSPs, but CSP's have a superior digital engagement opportunity at a fraction of the cost.